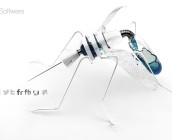 Social Media Data to GH
This tutorial walks you through the Mosquito plugin suite for Grasshopper3D. The suite is available for download from: http://www.studionu.net/ceed3/mosquito
The tutorial runs through the following….
It shows you how to search Twitters social network for conversations and map them in space using the Twitter component.
We then look at how we can map movements between users using the Google Direction component.  It will plot Walking,Cycling or Driving routes for you right inside of Rhino.
We then look at how we can convert Lat/Lon (WGS84) coordinates to "real world" coordinate maps exported from GIS programs. We make use of the GEO-Project component and .PRJ (projection files).
Video Link:http://youtu.be/CnvJ3bGuI1w
Tutorial Files:  http://www.ceedstudio.com/ceed3/wp-content/uploads/downloads/2014/09/Mosquito_Twitter_Google_Files.zip
Video (tutorial preview): http://youtu.be/Z9L5PaJpRw4